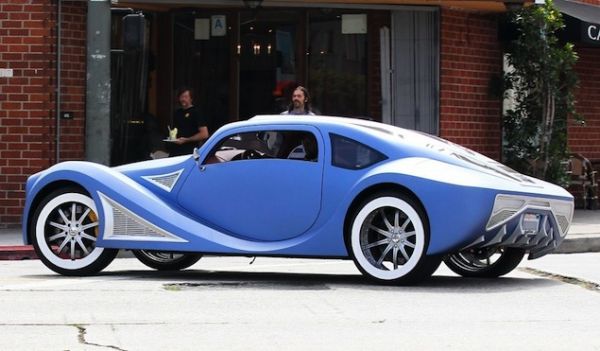 The weird only get weirder. It seems like the more money Black Eyed Peas frontman Will.I.Am makes the more he shows us his "unique personality." It's usually some extremely weird clothing and accessories, but now he shows us his style transcends the fashion world. He has designed his own futuristic car that took two years to make. The cost of this interesting set of wheels, $900,000.

I guess he has so much money that conventional ways of spending it is starting to bore him, so he's just making stuff up now. It's being said that the all aluminum car was built by The Garage and West Coast Customs and actually started out as a 1958 Volkswagen Beetle. Whatever it is, it's super weird but I have to say it's equally cool. I don't want to sit and pretend that I don't like it, I personally would have just got something way better and it would have been way cheaper. Then again I'm not Will.I.Am and I don't have hundreds of thousands of dollars to splurge on anything, let alone cars. In the clip below he explains his reasoning for making the car on the Ellen Show, but I'm going to call shenanigans on that one.

If he wanted to do something to inspire kids, there's way better ways to spend close to a million dollars than making some car, but once again it's his money and he can do what he wants with it. And I'm pretty sure he does plenty as far as giving back to this may be a bit too harsh, so I will ease up and just enjoy the car. Check out the original post on my site to see the clip and let me know how you feel about the car and see if you understand his reasoning.
Source: Upscale Hype/The Ellen Show