It was only a few years ago when shows like Star Trek featured impressive technology that was integrated in people's clothes and accessories. A few years later, technology has become such an important part of our lives that it was only normal for it to merge with the world of fashion as well. The difference between a simple gadget and an accessory is quite blurred today, as tech pieces become more stylish and fashion accessories have more and more technical specs.
From a simple purse to a purse that can charge your phone battery or that featured speakers, there is only one step to go and a simple accessory can turn into a gadget within the blink of an eye. There is a lot to see when technology and fashion accessories merge, and the results can be quite unexpected.
From watches that can take pictures to gold-crafted iPads, we are taking a look at some of the most impressive merges between fashion accessories and technology. If you thought a necklace that features and USB drive was impressive, wait until you see this list!
The Ego Lifestyle Emerald PC Notebook Computer
Valued at almost $11 000, this laptop claims to mix "high tech and fashion". Then notebook features an interchangeable, handcrafted case made from crocodile Italian leather.
Besides from the extravagant style aspect of the piece, the laptop does not feature any special technical specs. It won't make you lunch or anything, but it is sure to turn a lot of heads.
Embrace Smart Notification Bracelet
The Embrace bracelet is a great piece to use when you are in a situation when you can't check your phone, such as a meeting or a work-out. The Embrace+ gadget is a bracelet that is connected to your phone and flashes colorful lights for different alerts, which you can customize according to your preferences. You can use it to find out when you are receiving a call, a text or even social media alerts.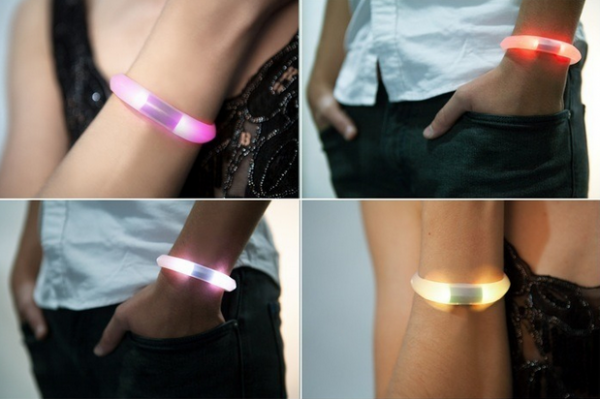 We think that it can also come in handy if you leave your phone to charge in one room and do other things around your house or office. Also, if you are a person who doesn't hear their phone ringing when you are on the street or in a pub, this gadget can turn to be quite useful.
This bracelet is not the most stylish accessory, but it would fit well with a sports outfit. It can really turn out to be a very useful gadget and it only costs $69, so the investment is definitely worth it.
Stuart Hughes iPad 2 Gold History Edition
Taking mainstream gadgets and embellishing them with precious materials is not something new, but this piece takes it all to another level.
This iPad 2 case created by British designer Stuart Hughes is encrusted with 12.5 carats of flawless diamonds and, according to his website, the main front frame is crafted from one of the oldest rocks in the world, which is an ammolite that is older than 75 million years. According to the manufacturer, there are 65 million-year-old T-Rex bones embedded within the rock. To purchase this piece, you need to spend an impressive $5 million.
Regarding the technical aspect, an iPad is an iPad, but if you want to create an impression every time you take out your tablet, this piece is a good way to go.
Samsung Galaxy Rose Gold Smart Watch
The Samsung Galaxy Rose Gold is not the first smart watch on the market, but it definitely is one of the best. The rose gold face makes it very elegant for a piece that features a digital display. In terms of style, the watch can go with any kind of casual or semi-formal outfit and makes a great addition to your wardrobe.
This item is not only a style piece, it is a remarkable gadget as well. The watch is compatible with the Galaxy note 3 phone and it allows you to receive notifications on his wrist, to make calls or to answer them and you can even compose simple messages by using voice commands.
Moreover, the watch allows you to check the weather or schedule an event and it also includes "find my device" features, a pedometer, a music player, auto lock and unlock features and a 1.9 MP auto-focus camera directly in the strap.
Talk about a watch with functions!
The Smarty Ring
Similar to the Samsung watch, the Smarty Ring embeds a lot of functions, but within a ring. Using Bluetooth technology, you can get call notifications, e-mail and text messages alerts and even social media updates.
This $175 ring allows you to control and track your phone from a distance. The Smarty Ring charges wirelessly every 24 hours and is waterproof.
In terms of style, it has a very sleek design, but we would not recommend wearing it with very formal clothes.
The Luvaglio Laptop
Several years ago, luxury manufacturer Luvaglio grabbed everyone's attention when they announced their fabulous $1 Million laptop. The laptop features an impressive design indeed, but there is not much one can find out about it without having a password to unlock their website. According to CNET, the piece features a Blu-ray player, solid storage and an integrated screen cleaner.
However, what makes it a $1 Million piece is still not public information, but we imagine that it is made from very valuable and rare materials and that it is handcrafted by a team of experts.
The piece definitely looks rich and hopefully its technology doesn't break down easily.
The Stuart Hughes Black Diamond iPhone 5
The name of this piece says it all. A black diamond iPhone 5 is a great way to mix technology and style. The designer of this creation charged $10 Million for this smartphone that took nine weeks to create by hand and is encrusted with diamonds.
Mr. Hughes re-created the iPhone 5's chassis from solid gold and decorated it with one deep-cut black diamond.
From a style perspective, we can't deny that fact that this phone looks like a veritable piece of jewelry, but we feel that its story and price and worth more than the aspect of the piece itself.
The Google glasses
We have been fascinated with the Google glasses from the moment they appeared and felt that they could be an invention as big as the printing press or that they could go downhill and become just a good trend.
The reason for this is because Google took a piece that was already a mix between style and technology and brought it to a different level. It is known that the right glasses can not only make you look better, but that they can also enhance your natural features.
The Google glasses could make glasses a default piece in the future, just like watches or hats were a default piece for men at the beginning of the 20th century.
By using augmented reality technology, these glasses offer the wearer an outlandish experience that will take the way he sees the world to a different level.
As you can see, some of these pieces serve an aesthetic and a statement purpose, while others turned a classic style piece into a veritable gadget.
Style and technology go hand in hand and it won't be long until clothes with high-tech functions will become a part of daily life as well. There are a lot of prototypes and simple pieces on the market, but they are not part of the mainstream yet.
Fraquoh and Franchomme
P.S. Which of these pieces did you like best? Which one would you use? Share your thoughts, questions or feedback on the article in the comments below! For more style advice and fashion tips and cultural insights, you can subscribe to Attire Club via e-mail or follow us on Facebook or Twitter!
The post When gadgets and style merge… appeared first on Attire Club by Fraquoh and Franchomme | Men's Style, Fashion And Lifestyle.