A supercar should be extreme, advanced, amazing, and one of the fastest objects that has ever been placed on four wheels. Besides being just fast, I also think it is important that you are able to drive it whenever you want (street-legal), and we're not talking about being pulled around by your chauffeur on a flatbed. In addition, we had a couple of expectations for these cars to make it onto our list of envy.
One, they had to dominate one category of being an exceptional supercar, while excelling in all other categories. Two, it had to be a future upcoming concept car, or absolutely worthy as an older model being brought back in 2015. Three, the supercar had to be primarily street legal, as it is my belief that a supercar should be seen as well as heard. Four, occasionally these rules were made to be broken.
Let's see what makes these ten supercars a little more 'enviable' than the rest.
1. Koenigsegg One:1
The Agera R is indeed a worthy contender, but the One:1 is something extra special, including a nearly all-carbon fiber construction that has been manufactured in-house for quality control. Koenigsegg has already promised it to be the fastest supercar in the world once it hits the market, and I believe them. Like the Agera R it will feature a 5.0-liter V-8, except this time it will be boasting 1,341 horsepower and 1,011 lb-ft of torque. It has been estimated to hit near 280 mph, and Koenigsegg is very hopeful that 250 mph will come at less than 20-seconds.
2. Hennessey Venom F5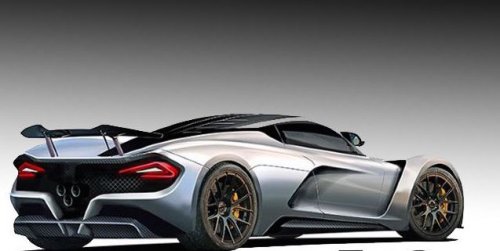 We like the Hennessey Venom GT. However, Hennessey feels that they can do us one better. Or perhaps I should rather say do "One:1" better. "I think something in the 290-mph range will be possible," commented Hennessey several weeks back. That would put the Venom F5 as a top contender as the undisputed fastest supercar in the world. And to make sure it sticks, they will be utilizing a 1,400 horsepower 7.0-liter powerplant, and building at least 30, so that Guiness Records can officially count it as a production model.
3. SSC Tuatara
The Tuatara has been a whisper in our ears for the past three or four years. But with patience comes great things, and the Tuatara looks like it is going to certainly deliver on greatness with a supercar packing 1,350 horsepower and 1,280 lb-ft of torque. From what SSC has hinted, it should be able to catapult across a straight pile of tarmac at 276 mph, and hit 60 mph in less than 2.6-seconds.
4. McLaren P1
The McLaren P1 has crossed our pages before, and for good reason—it is a damn fine supercar. What McLaren has done is added a 176 horsepower torque-happy electric motor, onto an already insane 727-horsepower twin-turbo 3.8-liter V8. Then they stripped the P1 down to just its bare essentials, leaving it somewhere around 3,075 pounds of dry weight. The result was simply 0-60 in 3.1-seconds, and a hybrid supercar that is just good enough to be better than the Porsche 918.
5. Zenvo ST1
Zenvo, the Danish startup company has proven that they are serious about becoming the next independent supercar brand. It is not just that this car is a technological marvel of carbon fiber, as it is actually made of tubular steel and composite material. What it does have is a fantastic design, excellent engineering, and a dual-charged (supercharged and turbocharged) 7.0-liter V8, which results in 1,104 horsepower and 1,054 lb-ft of torque. The ST1 is electronically limited to a top speed of 233 mph, and for the buy-in price ($1.2M), the company will also fly out a mechanic anytime the car gives you any trouble.
6. Bugatti Veyron Super Sport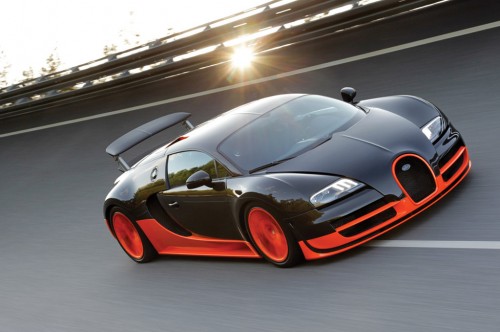 The Veyron Super Sport has been around longer than most boy bands, but some oldies are just too good to leave off this list. The Veyron has maintained the status as the most dominant production supercar in the world, which is an amazing feat. There's that, and the fact that it has also been the most longstanding 'fastest car in the world' for the past decade. Its amazing 8.0-liter W16 engine, complete with four turbochargers, can generate speeds up to nearly 270 mph, which is pretty darn good for any grandpa.
7. Pagani Huayra
Pagani borrowed the stout 6.0-liter V-12 from the Mercedes AMG, added a seven-speed auto-manual transmission, and named it after the legendary God of wind. For 2015, Pagani is planning a non-street legal Nurburgring Edition, which will boost the Merc's horsepower to 720, dump off some excess weight, and promises a 0-60 sprint in about 2.6-seconds. In either flavor, the Huayra has the capability of 230 mph in the right conditions—and yeah, it is a beautiful car from top to bottom!
8. Gumpert Tornante
Gumpert's Apollo was an amazing machine utilizing a 650 horsepower 4.2-liter V8. This time around Gumpert is likely upgrading to a 700 horsepower Audi V8, which should make it a good bit more impressive. And I do not use the word 'impressive' lightly, considering that the Apollo was designed to travel through a wind tunnel upside down at speeds of 190 mph (untested as of yet). What will the upcoming Tornante be able to do in 2015/2016? Just this thought alone makes this supercar worthy of any top 10 list of envy.
9. Ferrari LaFerrari
While Ferrari has caught a lot of flack for its name, its technology is what makes it stand out from the pack. It features a HY-KERS powertrain, 963 horsepower hybrid system, and is capable of an electronically limited top speed of 217 mph. Unfortunately, to even be in the running to own one of these masterpieces you need to have purchased not one, but at least five Ferrari's in the last several years. I just counted my last couple purchases, and I came up five cars short—darn.
10. Toyota FT-1 (Supra)
Is an unconfirmed car such as the FT-1 bold to have on our list? Perhaps, but I am also the glass half full type, that believes if I talk about it, Toyota will build it. So, what we have here a 400 horsepower V-6 hybrid, whose potential is only limited by the indecision of the bigwigs at Toyota. Pony up and build it already!
Top 10 Supercars Built For Envy is a post from: Urbasm