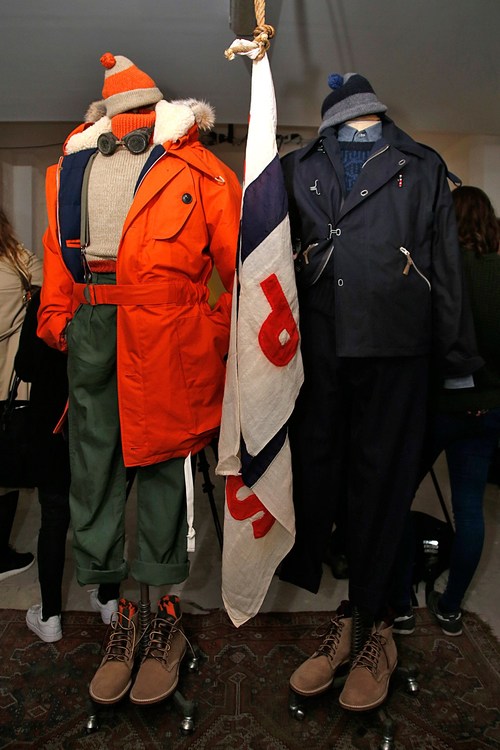 January marks the beginning of a number of fashion tradeshows and runway presentations. The London Collections just concluded, and today is the start of Pitti Uomo. After that, there's Milan's Fashion Week, Bread & Butter, and a couple of events in NYC.
If you're interested in following such shows, I find Vogue, StyleForum, the UK edition of GQ to be good sites to follow. The first has runway photos, while the other two will have editorials. The Instagram accounts for Nick Sullivan, Josh Peskowitz, and Eugene Tong are also good for random pictures here and there. Tommy Ton will be shooting street style photography for Style.com and GQ, while Journal of Style will document some of the more classic looks at Pitti. For funny (fake) coverage of Pitti, follow Voxsartoria's Twitter account.
From the recent London Collections, here are a few presentations that caught my eye.

I like the way Nigel Cabourn works. Not in the sense that he tweaks archival military and expedition clothing in a way that turns them into streetwear (a lot of people do that, although Cabourn arguably does it the best), but in the sense that he seems to eschew the usual practice of releasing totally new collections every season in order to help bolster sales and generate press. Much of what Cabourn makes stays the same from year-to-year, but when he does have a new design, it's always fantastic. In the above, the Everest parka, Cameraman, and Mallory jackets remain perennials, while the belted Antarctic coat and naval clip jacket are new. Prices are likely to be expensive, but you can expect the level of detailing to be amazing.

Dunhill had a number of great looks with autumnal colors, which were styled in an inspiring low-contrast way. In the above, you can see how mid- and dark-tones can still look distinct through their patterns, colors, or materials. Also, pin striped pants that somehow work well as odd trousers, and lots of chic, fuzzy mohair sweaters that are interesting enough to be worn on their own.

Hardy Aimes' new overcoats look to be built from beautifully textured, almost vintage-like fabrics. There are some interesting twills, as well as what looks to be some stunning boucles. You can click on the small magnifying glass at Vogue's website to zoom in for a better view. Kind of inspiring for bespoke projects, although finding these kinds of fabrics will be tough.

One of the best designers for the kind of warm minimalism I wrote about last week, Margaret Howell has a fall/ winter collection that relies on what feels like very summery colors. Lots of simple slate grays and dusty tans, which were at times punctuated with a cheerful yellow coat or bright scarf. The clothes look simple, but it's their fine materials and finishing that set them apart from high street brands. Admittedly, these kinds of things don't translate well online, but the simplicity of these looks is still inspiring.

John Lobb recently hired Paula Gerbase of 1205 to be their artistic director, which I thought was a brilliant move. When it comes to classic shoes, I favor Edward Green and Crockett & Jones, and rarely find myself looking at Lobb's offerings (although, they are very nice). Instead of trying to come up with "twists on classics," I like the idea of a Northampton firm just making straight-up fashion forward shoes. Gerbase's designs aren't only trendy, and I like how they fit in with more modern modes of tailoring (Jil Sander, Maison Martin Margiela, and the like). 
The debut collection relies on a lot of simple, at times subtle, detailing — silver buckle strap boots and single eyelet chukkas. There are also some Lanvin-esque sneakers, although the world hardly needs another minimalist sneaker offering.

Speaking of sneakers, Savile Row's Kilgour is doing a collaboration next fall with Adidas. They look to be grey woolen versions of the company's iconic tri-stripe sneakers. OK, I like these.

Of all the recent runway presentations, Pringle's was one of the few with looks I would wear myself. Some simple wool jackets with turtlenecks and buckle boots, as well as leather jackets with dress trousers. Also, more low-contrast combinations that I think help make the ensembles look a bit more interesting.

YMC often feels like it's half about '80s youth culture and half about modern streetwear. In the above, a navy coat is paired with light washed jeans, while drawstring joggers look at home with the shirts and jackets that accompany them. Most of all, I like what the designer is wearing — loose fitting, raglan sleeved knit paired with a long-sleeved tee, not-overly-slim pants, and some burgundy boots.

People have been talking about the death of slim silhouettes for five years, but every year, the look persists. Still, it's bound to happen soon, right? E. Tautz's latest presentation had some refreshingly voluminous pants paired with oversized coats. Really impressive collection from the already impressive Patrick Grant, who straddles of the world of menswear — he has one foot in the world of classic tailoring through his bespoke Savile Row firm, and another foot in the world of fashion through this ready-to-wear label. This show, more than any other he's done, feels like it has a much more unified, cohesive look to me, which I'm hoping takes off for him.