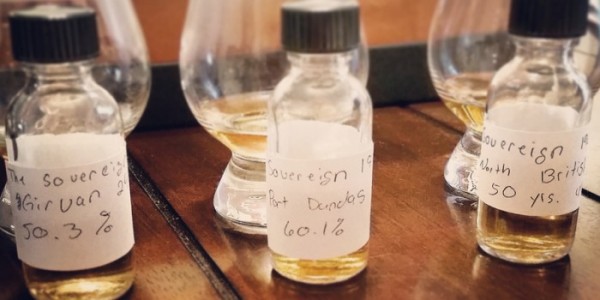 A weekish ago my favorite bottle shop here in Los Angeles picked up three fun, unique and tasty single grain whiskies and I've now had the opportunity to try them all at least once and I have to tell you… They're all good. However, of the 3, 1 of them is awesome and 1 is downright amazing. So amazing that I've already slapped down my own money on a bottle and if that isn't a blogger putting his money where his mouth is then I don't know what is because that's literally what happened.
If you've ever been curious about grain whiskies this is a great the time to grab them because they are an obscenely good deal. Seriously, when was the least time you saw a 24 year old whisky for $100 that actually tasted good? It's been a minute right? Well check out these bad boys because here's your chance!
1990 Girvan 24 Year Old Sovereign K&L Exclusive Single Barrel
Price: $100 ABV: 50.3% Cask Strength
Nose: Fruit, caramel and butterscotch heavy dark sweets, toasted banana, dry grains and light citrus. Some light bubblegum in the background and the whole aroma comes off a bit on the light side.
Palate: Fruit, honey and a slightly cloying undertone mix with spice notes like cinnamon and paprika. Light notes of honey, vanilla and a dark mugginess come and go from start to finish.
Finish: Burnt caramel, vanilla, caramel and a light biscuity quality head out on a medium fade.
Overall: B (83-86) I like this one, but don't love this one. Without a doubt it's among the best grain whiskies I've had and if you're looking for a great introduction to Scottish grain then this is it.
1978 Port Dundas 36 Year Old Sovereign K&L Exclusive Single Barrel
Price: $150 ABV: 60.1% Cask Strength
Nose: Caramel, toasted nuts, fruit, vanilla frosting, butterscotch ice cream topper (the stuff that turns into a hard shell), dulce de leche and a smoky meatiness. It's more like a wood smoke than a peaty smoke. A light bit of citrus peel hangs out in the background.
Palate: Oily toasted nuts, fruit, cereal notes and a lovely smoky char float on top of an undercurrent of sage, brittle and a mild herbal earthiness. It's a fascinatingly complex palate.
Finish: Long slow fade of toffee, nuts, smoke and a sweet, almost malt like, sweetness. It's a wonderful ending to a lovely dram.
Overall: A- (90) Why did I peg this one at a solid score instead of a range? Because I loved it enough that I bought a bottle and and enjoying a dram while writing this overview of all of the K&L Sovereign grains. I loved this one at first sip so much it's the one I went out and slapped down $163.49 of my own hard earned cash on (price after tax here in Los Angeles).
1964 North British 50 Year Old Sovereign K&L Exclusive Single Barrel
Price: $250 ABV: 44.7% Cask Strength
Nose: Smells like a deli + a candy shop. Caramel syrup, ruby grapefruit, butterscotch, toasted nuts, light meatiness, toffee, light wood, light earthiness and some bitter cleaner like notes. It's complex, odd and awesome all at once.
Palate: Weird funky fruit… like a burned grapefruit. Combines with caramel, maple, cough syrup, grainy hay like quality, light overripe fruit and a slight soapy character. There is a nice earthy undertone and a rye like spice that haunt the back end.
Finish: Long and speckled with caramel, wood, mint and an odd savory spice I can't quite place.
Overall: B+ (89) I can also solidly place this one at an 89 because I've now had it on 3 different occasions, with at least 1 oz. each time and taken notes each time. While I can't say that it's better than the Port Dundas I can unequivocally say that it's an obscenely good value. Seriously take a second and think about it. A 50 yr old whisky for only $250 in a time when we're seeing 50 yr old stuff selling for anywhere between low four figures to mid five figures. It's a little crazy.
The post The K&L Sovereign Single Grain Whiskies appeared first on The Whiskey Jug.