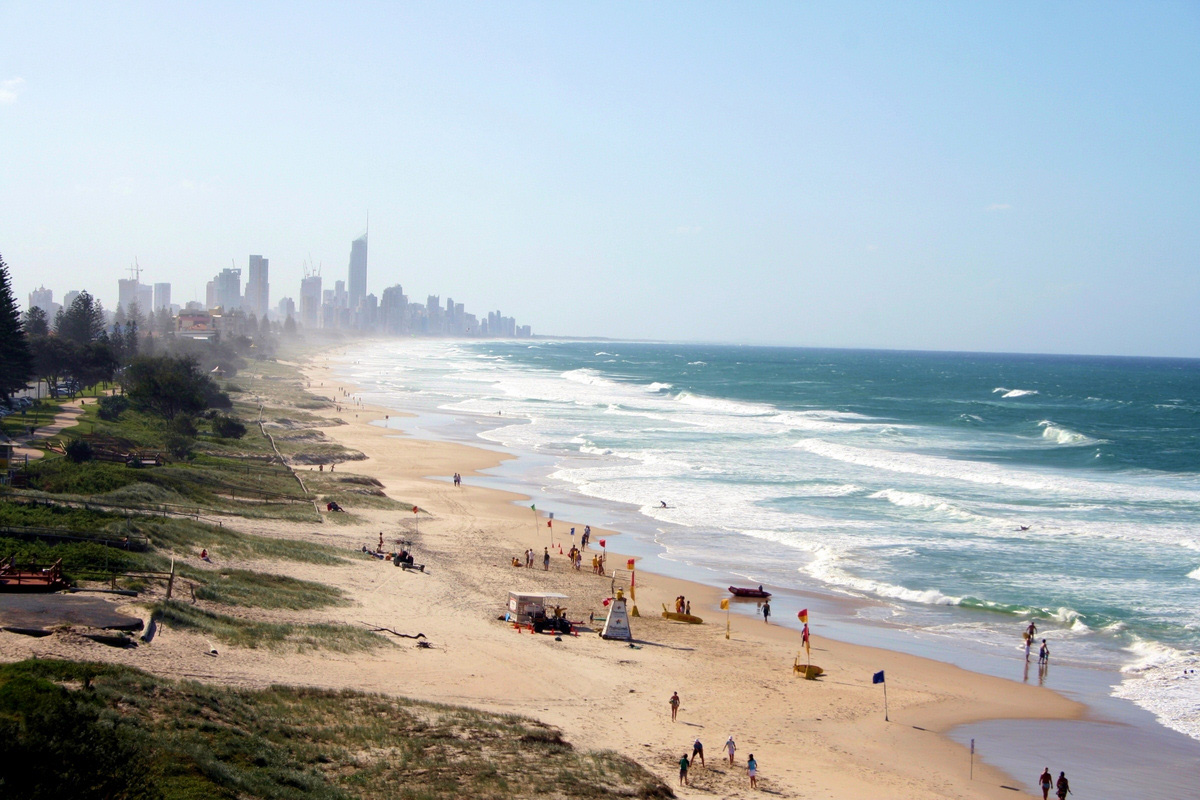 If you don't surf, then you might find it strange to think of Surfers Paradise, Australia, as someplace you'd ever want to visit. In addition to its deserved reputation as one of the world's hottest surf destinations, Surfers Paradise is quickly growing into a dynamic city and bona fide hot spot for all kinds of travelers. From skyscrapers to shopping to spectacular dance parties, surfers aren't the only ones who can find paradise here.
Get a Bird's Eye View
One thing you might not realize about Surfers Paradise is that it's home to one of the world's most impressive seafront skylines. Dozens of shimmering skyscrapers line the beaches, with Q1 being the crown jewel. At a towering height of more than 1,000 feet, Q1 once held the title of the world's tallest residential building.
So why, as a tourist, should this matter to you? Well, as you're looking for a place to stay in Surfers Paradise, you'll find that many of the Airbnb apartments locals offer up are located in skyscrapers such as Q1, allowing you to enjoy a panoramic view of the beach to start each day, to say nothing of the amazing resort and spa located within Q1.
Shop 'Til You Drop
Surfers Paradise is also paradise if you're looking for retail therapy. Shop at Paradise Centre Mall, for example, to outfit yourself for lazy days on the beach with clothing, apparel, and more from all your favorite brands, right along central Cavill Avenue. If you're on the opposite end of town, on the other hand, you can visit the Pacific Fair Shopping Centre, which offers a similar selection of goods in a more southerly location.
You should note, however, that while bargaining with independent sellers at night markets on the streets of Surfers Paradise might seem more fun than walking through a mall, many of the goods they hawk are counterfeit. This is not only a potentially bad deal financially, but you might not legally be able to import such goods to your home country.
Take a Gold Coast Day Trip
Surfers Paradise is the shining diamond of Australia's Gold Coast, but there are plenty of other shimmering jewels to admire. Use Surfers Paradise as your base for day trips to surrounding sights. If you're craving a different beach experience, for example, you could head to alternative beaches such as Broadbeach, Kirra, and Mermaid Beach.
Another option is to take an excursion to the Gold Coast Hinterland, the lush, mountainous inland region behind the shore, which is the perfect place for hiking, trekking, and other adventure sports.
Party All Night Long
If you know any surfers, you know that one thing they love to do as much as surf is party. Surfers Paradise is always a place to find a party, whether you have a casual drink in a coffee shop or Irish pub, or dance until the sun rises over the Gold Coast in a pumping club. No matter how you spend your nights in Surfers Paradise, one thing is clear: It's difficult to imagine them being as amazing as your days.