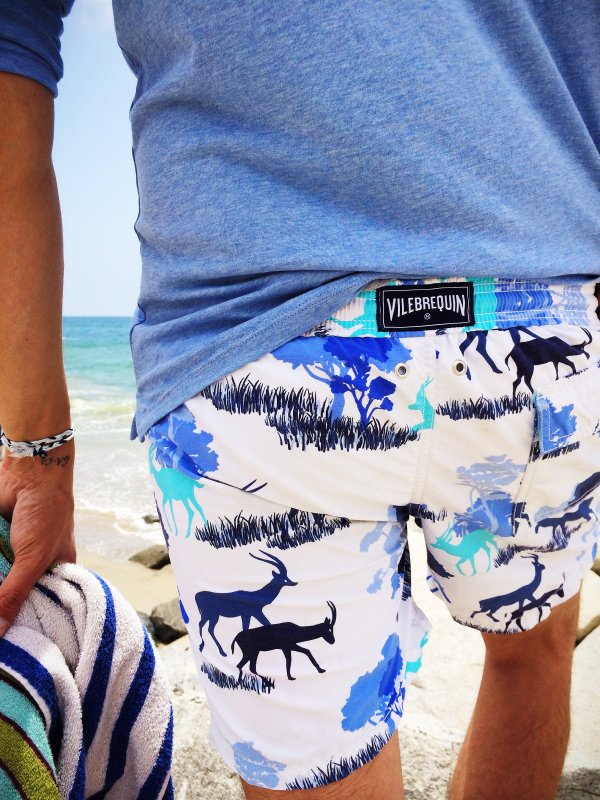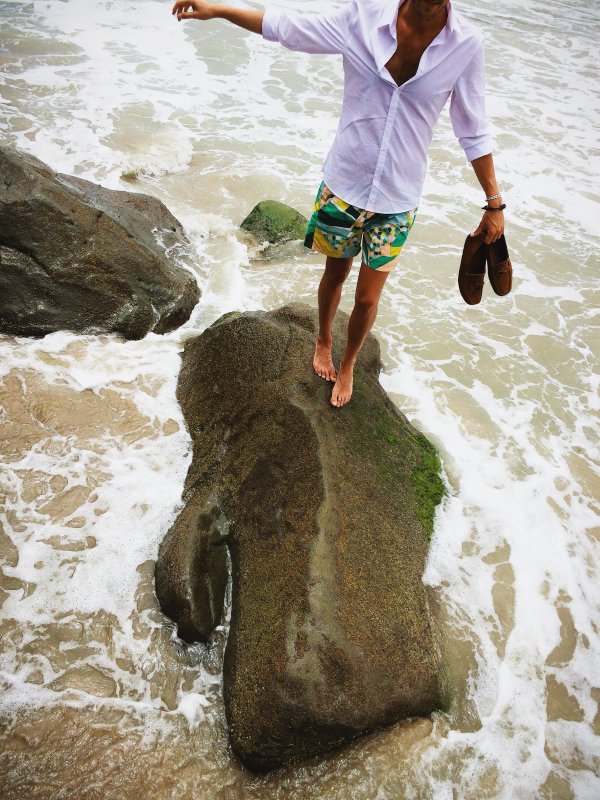 Creating the perfect look for the beach or a pool isn't always the easiest thing to pull off. Multiple factors come into play -- first and foremost -- the swimsuit itself. When scouting the right trunks, I believe in going for the colorful, bright & bold. As a rule of thumb, I tend to gravitate towards stripes and prints over solid shorts -- as beach attire should always be fun and playful.
As far as length, it depends on what you're comfortable with. For a few years now, shorter cut swimsuits have been the trend. I like them fall few inches above my knee and be slightly more fitted, but not too tight -- generating more of a '70's' vibe.
Once you found the right suit, the work is still incomplete. Pairing your trunks with the right shirt is essential. This is all totally relevant to where you are headed. While I might wear a tank top to a pool party in Vegas, I wouldn't necessarily wear one to a casual bbq at a friend's house, or to relax on the beach.
In the first look I'm wearing a Vince Henley over Vilebrequin trunks with Tom Ford glasses -- keeping things more casual and light. It's easy styling for the less formal affair.
I'm a huge fan of the white button down over swim trunks -- it's classic. I love how this look allows you to be slightly dressier, even in swimwear. I'm sporting an H&M button down over Emilio Pucci trunks, paired with Ray-Ban's Flash Lenses. Try this look at the more sophisticated occasion.
The last look I'm wearing a Craft & Commerce tee with Saturdays NYC shorts and Sperry Top-Sider for a more all-American look. This look is best for playing it cool with friends or a Sunday at the beach.
Wherever you're spending time in the sun this summer -- don't forget the SPF -- and remember a good guest always brings beer or wine for the host. Cheers!