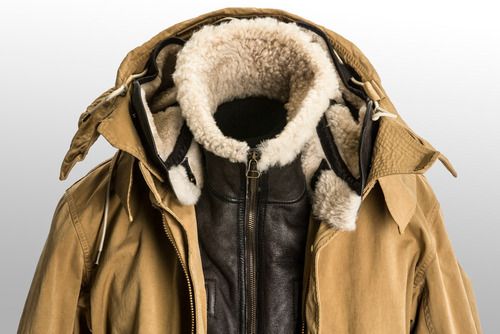 Yves Saint Laurent was once quoted as saying, "I am no longer concerned with sensation and innovation, but with the perfection of my style." I wish I had that kind of singular focus. While I'm mostly interested in tailored clothing, my eye wanders when it comes to casualwear. I find myself sampling here and there, being drawn to new brands and styles every so often. Here are six newish companies I've been looking at this past year. Perhaps you'll find something to like as well.

Ten C is an Italian outerwear company by former Stone Island/ CP Company designers Alessandro Pugetti and Paul Harvey. Lots of smocks, anoraks, and field jackets here, but designed to fit better than the originals and constructed from much more interesting fabrics. The biggest draw for me is the complex layering that can be achieved with some of their liners. Their hood and body liners can be snapped into any of their jackets for a unique and somewhat aggressive look. You can see the effect in the first photo at top of this post.
Unfortunately, one user on StyleForum reports that the Ten C's fabrics aren't as water resistant as one might wish, which is kind of a bummer given the price point. Still, if you want to learn more, you can check out the company's website, where Paul Harvey can be heard describing each piece in detail. You can also find them available at Oi Polloi, Haven, and Union, as well as sometimes on discount at Yoox.

The Munich-based brand A Kind of Guise started in 2009 as a student project, where the founders made bags out of leftover leathers for friends and relatives. Since then, they've grown into a full menswear line, complete with outerwear, knitwear, and cut-and-sewns. Designs are creative, and every season, there are one or two pieces that I wouldn't mind owning myself. This past spring, for example, they had a black MA-1 bomber with brass zips that I regretfully missed out on, and for fall, they're offering some interesting zigzag weave sweaters made from cream, navy, and red lambswool. I imagine the sweaters could be useful for layering, perhaps under a heavy peacoat or duffle. The brand is available at Oi Polloi, SOTO Berlin, Yoox, and the company's own webshop.

OK, I've written about Chimala before, but I'm excited enough by the brand to mention them again. Chimala is a Japanese workwear company, with garments that sometimes fit a bit fuller than what's common these days (I find that refreshing). They also have really unique pre-distressed detailing (gasp!), which is often tastefully executed. Unfortunately, distribution in the US is limited. Unionmade and J. Crew carry a few styles in small quantities, but for anything more, you'll have to check Japanese stores such as Shabby & Industrial.

Yes, another workwear brand (have your laugh). Frank Leder is a German designer who makes clothes that are simple enough to be easily incorporated into any casual wardrobe, but distinct enough to be worthy of mention. Designs draw a lot from workwear and military influences, but also have a certain sense of humor, which prevents them from looking too serious. Supposedly, some of these garments are constructed from "traditional German fabrications," such as deutschleder or schladminger – although I haven't the faintest clue what that really means. Stocked at Neighbour and South Willard for those interested.

Rainmaker is a new Japanese label by Kouichi Watanabe (formerly of N4). Admittedly, some of the stuff here is a bit too boyish for me, but I like the knitwear and outerwear. Certain pieces even look like they could be worn with a classic pair of grey flannel trousers and a casual button-up for a relaxed, off-hours look. Unfortunately, distribution is only in Japan, so if you want anything, you'll have to go through a Japanese proxy. I like the shaping on that beige wool bomber you see above.

Last, but not least, there's Dana Lee, a Canadian designer that does really basic, stripped-down styles that remind me of the hipper parts of Los Angeles. The designs are minimal, but not cold; the silhouettes relaxed, but not baggy; and the charm is all in the fabrication, rather than any excessive detailing. On a hot summer day, I can imagine wearing one of her button-up shirts and chinos, along with some of Barbara Shaum's sandals, and just relaxing in my backyard. Best part of it all: prices are relatively affordable, especially when things go on sale. Available at Need Supply, Neighbour, and Dana Lee's website.