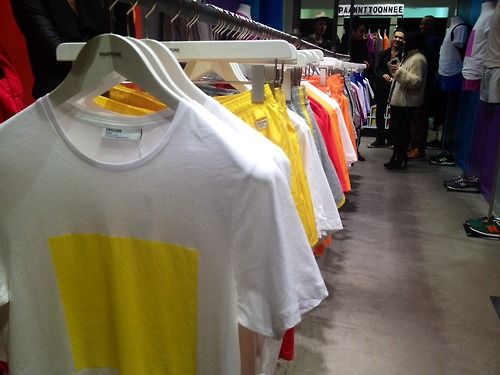 Scoop Launches Capsule Collection With Pantone
Scoop recently feted their new collaboration collection with Pantone by throwing an intimate party in their dedicated Pantone shop in NYC's Meatpacking District. Some of the products shown consisted of tees, and iPhone/iPad covers with Pantone color chips on them, as well as more designed items such as suede belts, and swim trunks. Attention to detail is definitely there as each swim trunk has a tag that has its Pantone name on it on the front part and right behind it there are 3 words describing its color personality.
Not seen in stores (but seen in the catalog and online) are some of the cut and sew pieces like the grey sweatshirt with the letter "P" over the heart. Overall the collection does not disappoint. There's a little bit of something for everyone, from high-end fashionistas to street wear enthusiasts. Stop by the colorful Scoop shop before it's gone.