Every year the LA Auto Show dishes out some of their most impressive offerings for the future of transportation. This year we were impressed by the Saleen FourSixteen, which is Saleen's take on a hotrod Tesla Model S. The Maybach 57 and 62 were gorgeous, the Jaguar F-Type is always a pleasant sight (and now with all-wheel-drive), and we heartily welcomed Fisker Karma teaming with Galpin Auto Sport to create one classy looking 2015 Mustang 'Rocket' worth 725 horsepower.
However, what really caught our attention was the…
Audi Prologue (Ahem, A9 in sheep's clothing)
Audi surprised us with a luxury offering that is certainly poised to take on the Mercedes-Benz S-Class Coupe, and do so with a little grunt and plenty of finesse. The grunt comes in with its 605-horsepower 4.0-liter V8, which also offers over 550 lb-ft of torque to get its 17-foot long, 4,400 pound chassis from zero to sixty in an impressive 3.7-seconds.
While it is not a hybrid, it can recoup energy from its brake system to help power some of its high tech gadgets. We're talking about external sensors that open the car door when you touch the sides, Matrix laser headlights, four wheel steering (it is 17 feet long), and an adaptive computer system that adjusts itself to fit your preferences based on your current destination. As luxury cruise liners go, this is the one you want.
Infinity Q80
Finding the brunt of its grunt from a 3-liter twin-turbocharged V-6 petrol engine, this hybrid luxury car rocks 550 horsepower and a pair of suicide doors. However, what made it truly interesting was its sexy, sleek styling and ability to make us question our own biases towards coupes, hatches, and crossovers. You see, I like coupes but dislike crossovers; Pamela Causfield prefers hatches but despises crossovers, and Craig Yee once owned a crossover and crashed his coupe… yet we are all strangely drawn to this masterful design which is a combination of all three platforms rolled into one. Absolutely brilliant.
Lexus LF-C2
Who needs a roof when you'll be spending the majority of your time in the garage polishing this trendy fashion statement by Lexus, dubbed the LF-C2. While this is not an offering that you can expect to see on the showroom floor anytime soon, we suspect that Lexus is feeling out how well such a daring design would be welcomed for the brand. With open arms aimed for the steering wheel, we give Lexus the thumbs up to be as daring as they want to be.
Chevrolet Gran Turismo 6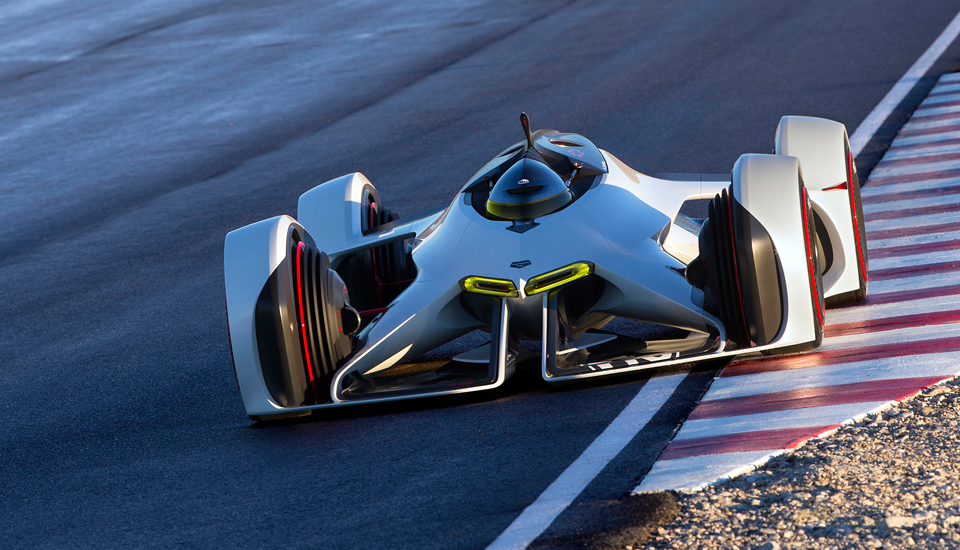 We are a bit fuzzy on what laser propulsion is, but as long as it looks this good and delvers its promised 900 horsepower in thrust from zero to sixty in just 1.5-seconds—we really don't care. The Chaparral 2X Vision Gran Turismo (VGT) is for all intense purposes an ultra futuristic space suit with four wheels attached to keep you from grinding your chest plate off on the tarmac. The laser system provides motion to the suit by creating small shock waves to propel it forward. You can actually get a taste of what this car would be like to drive in a download coming to PlayStation 3 this holiday season.
The LA Auto Show was a complete success, and now comes the wait to see which concepts actually get the green light. (Hint: Our money isn't on the Gran Turismo 6)
Revved Up for LA Auto Show is a post from: Urbasm