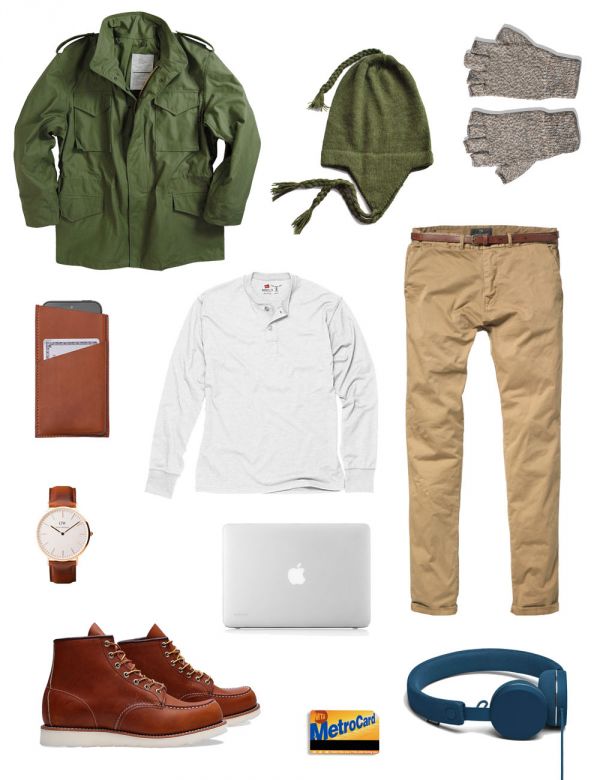 Friends, it is beyond freezing in New York City right now. It wouldn't be so terrible had it not descended on us so quickly. That said, I've started to stock up my wardrobe with the necessities (and few not-so-necessary items but nonetheless "essential"). I've mentioned it before – I've been using the eBay Collections feature for the past few weeks as a way to keep track of some of my favorite items from eBay. Have you guys checked out eBay Collections yet?
Among my recent purchases on eBay were the jacket, boots, gloves and cap – all the pieces I need to keep me warm. While I didn't necessarily "need" a new laptop, I decided to bite the bullet and replace my 6-year-old MacBook Pro with a new MacBook Air… and y'all, I couldn't be happier. It's so darn fast (and light)! Now that I've gotten all my winter essentials in check, it's been a bit easier to tackle my Mondays, but only a smidgen.
Field Jacket / Alpaca Hat / Fingerless Gloves / Red Wing Boots / Scotch & Soda Pants / Daniel Wellington Watch / Hanes Long-Sleeve Tee / Octovo iPhone Wallet / UrbanEars Humlan Headphones (they're machine-washable!)
** My eBay Collections were curated as part of my collaborative sponsorship with eBay. #FollowItFindIt
About Justin
Justin Livingston is the founder and editor of Scout Sixteen. He lives in New York City with a cactus and an unwavering love for whiskey. See more from Justin below...