Ugly Holiday Sweater parties can be entertaining, but there's a reason why they're special occasions:

Just because Urban Outfitters became one of the first commercial hipster retailers doesn't mean you can't recontextualize what you find there. Take this Hawkings McGill Skiier Sweater and dress it up with neutrals. A black turtleneck combined with black jeans and boots takes your look straight to the chalet.
Available at: Urban Outfitters
Price: $69.00

Club Monaco has always kept being stylish and sophisticated simple, especially with the Icelandic Fairisle Sweater. Around-the-collar patterns accentuate broad shoulders well also.
Available at: Club Monaco
Price: $129.50

All Saints is still a relatively new label in stateside menswear. This Rugen Crew Sweater is great for guys who go for more of a minimalist look. The black around the stomach will also help hide your inevitable holiday weight gain.
Available at: All Saints
Price: $168.00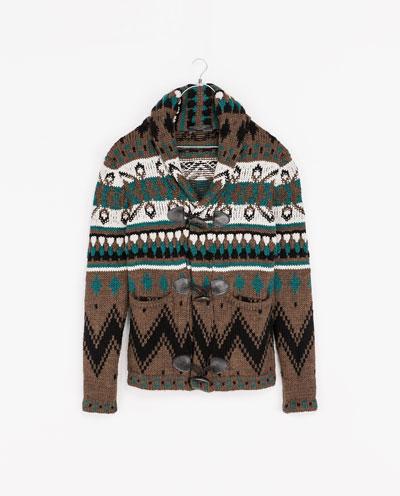 Zara does a great job with basics, but also offers statement pieces like this Jacquard Cardigan. Be careful when styling such a pattern heavy sweater; it's all about balance by keeping the rest of your look basic.
Available at: Zara
Price: $99.90

Speaking of intense patterns, the Intarsia Knit Zip-Up from Ralph Lauren is all kinds of Holiday Americana. The appeal should be obvious: there's a giant American flag on the back of your holiday sweater.
Available at: Ralph Lauren
Price: $398.00

Never underestimate the power of basics. This cream-colored Cable Knit Shawl Collar Sweater from Banana Republic does a great job complimenting the tartan button up underneath. Neutrals like this also make the best long-term investments due to their versatility.
Available at: Banana Republic
Price: $140.00

This last Jacquard Cardigan from Zara comes with a fur trim. While it's great choice for everyday use, it has the potential to be dressed up with slacks and a button down for a date or a holiday party.
Available at: Zara
Price: $169.90
Jason Wilson is a creative innovator trying to learn everything he can about this hectic vortex called life. He currently perform freelance social media, PR and web promotion strategies. Follow Jason on Twitter: www.twitter.com/JasontheJumbo
Knit Wit is a post from: Urbasm