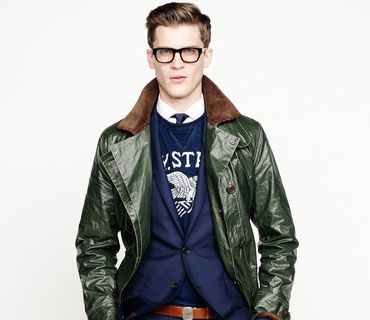 In the world of accessible, specialty apparel no one can touch J.Crew. From trend-right pieces to the perfect exploration of color, patterns and textures, impeccable styling, and fantastic third-party collaborations the team at J.Crew is on top. For their Fall 2013 menswear presentation Frank Muytjens continued to push classic menswear and traditional workwear fabrics. Frank said he was channeling a young Micahel Cain this go around, and that inspiration showed up in perfectly cut suiting in wool and tweed, and be still my heart — the most gorgeous Black Watch suit (a carryover from Fall '12 where it showed up in a blazer).
But where J.Crew's men's collections for Fall '12 and Spring '13 succeeded in their tightness and cohesion of the collections from look-to-look and piece to piece, the collection for Fall '13 fell short. The collection felt basics heavy only to be weighed down further be an over abundance of fair isle sweaters. And while there was a pop of color here and there; the wonderful, fun and witty pops of color that we have come to love and expect from the team at J.Crew seemed to be left somewhere in the design room.
All that being said I couldn't find a piece that I didn't immediately want in my closet.
For more coverage of J.Crew on MD.
[Photos via Style]