I'm pleased to introduce you to Mr. Sam Nieves-Velez and his first menswear line, Mr. Nieves. He brings us modern silhouettes with vibrant patterns and fabrics inspired by his Puerto Rican heritage. Needless to say I am filled with Puerto Rican pride as I write this and especially as I viewed his collection first hand. The collection has everything you need from polos, t-shirts, swim trunks, to slim fit trouser and even Guayaberas. Every piece of his collection has the vibrancy you've come to love about spring and summer.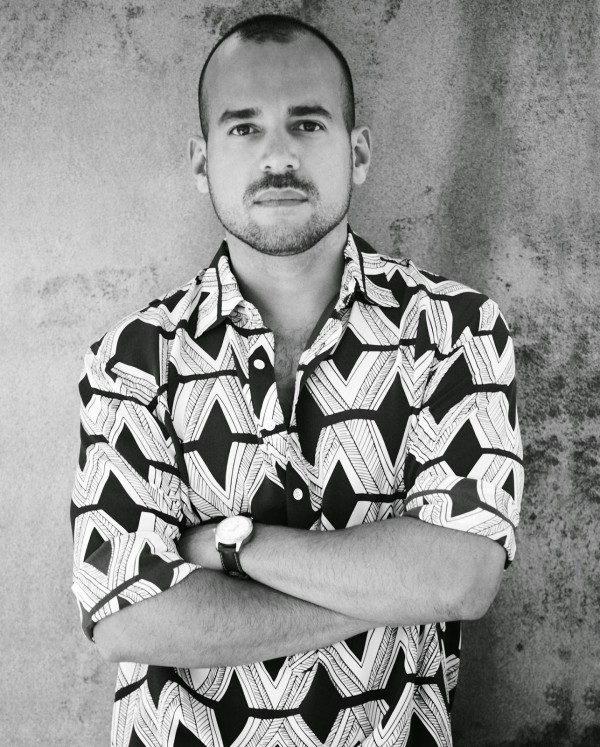 What motivated you to launch the Mr. Nieves collection?
SAM - The motivation came from the success of my Womens line Nieves Lavi. I then started creating items for myself that I could not find out in the market, and found that guys would stop and ask me where they could find it.  (aha aha moment, finally came to fruition)


How long have you been working in the fashion industry?
SAM - Longer that I will admit.  But, long enough to have a clear understanding of what goes into creating, operating and building a business. I was fortunate enough to have worked for companies that have taught me a great deal.


With limited examples of successful and talented hispanic designers, what would you say to a young hispanic person with a dream to pursue a career in fashion?
SAM - My best advise would be to go out and learn ALL that you can. Be curious about every part of design from the creative to the technical. Fashion goes beyond just a sketch. Launching a new business these days takes more than desire and motivation. It requires experience and knowledge.


Which is your favorite piece from the SS15 collection?
SAM - It's difficult to single out my one favorite piece in the collection, when you put your heart and soul into it all. But, I would have to say the embroidered shirts, I am very fond of, and have been getting a lot of recognition.  Of course the Guayabera, a staple in every latin mans wardrobe. I liked mixing the prints with the Guayabera elements, it gives a wild modern spin on a classic.


What is one place in Puerto Rico you recommend for everyone to check out and visit?
SAM - This is even more difficult that picking my favorite piece from the collection. I would say it depends on your personality. There is something for everyone on this "Enchanted Island." If you are adventurous, I'd say to go hiking at El Yunque, the only Rainforest in the USA. There are B&B's nestled in the mountains where you can stay with breath taking views and incredible food. Or a seaplane tour around the island. If your more of the leisurely type, fly or ferry over to Vieques Island. There is a W hotel that that will cater to your every need.  From afternoon sails to midnight kayaking at the bioluminescent bay. And for the true (Christopher Columbus) explorer, just rent a jeep, and navigate the island to discover what every corner has to offer. Don't bother to pack breakfast, lunch or dinner, there are incredible food vendors on every roadside, just waiting to be discovered and devoured. Buen Provecho.



Que te motivó para empezar la colección de Mr. Nieves?
- Fue por el éxito de mi linea para mujer Nieves Lavi. Comencé creando piezas para mi que no podía encontrar en el mercado, encontré hombres que me detenían para preguntar me donde podían conseguir las. Esas experiencias echaron fruto.

Cuanto tiempo haz estado en el mundo de la moda?
- Mas de lo que querría admitir. Lo suficiente largo para tener un entendimiento claro de lo que se require para crear, operar y construir un negocio. Fui lo suficientemente afortunado por haber trabajado en empresas que me han enseñado mucho. 

Hay un limitado numero de ejemplos de diseñadores latinos exitosos, que dirías a un joven hispano que sueña con tener una carrera en la moda?
- Mi mejor consejo seria de aprender lo mas que puedas. Se curioso acerca de todos los aspectos del diseño desde la parte creativa a lo técnico. La moda va mas allá que un dibujo. Empezando un negocio en estos días toma mas que solo un deseo y motivación- requiere experiencia y conocimiento. 

Cual es tu pieza favorita de tu colección SS15?
- Es difícil escoger una sola cuando pones tu corazón y alma en todo. Tendría que decir que las camisas bordadas. Me encantan y han recibido mucho reconocimiento. Por supuesto la Guayabera, es un clásico en el guardarropa del hombre latino. Me gusta mezclar estampados con los elementos de la Guayabera, le da un toque salvaje y moderno a un clásico. 

Que lugar de Puerto Rico recomiendas ir a ver o visitar?
- Eso es mas difícil que escoger me pieza favorita. Diria que depende de tu personalidad. Hay algo para cada uno en la "Isla del Encanto." Si eres aventurera puedes ir a caminar en el Yunque el unico bosque tropical en los EEUU. Hay hoteles en las montañas donde te puedes quedar con vistas espectaculares y comida increible. O toma una vuelta en avion alrededor de la isla. Si te gusta algo mas relajado te vas en lancha o avion a la isla de Vieques. Hay un  W Hotel que te brindara todo lo que necesites. Desde la tarde en veleros a kayaking a la medianoche en la bahia bioluminiscente. Para el explorador como Cristobal Colon, alquila un Jeep y recorre la isla para descubrir cada rincon que ofrece. No te molestes en empacar para desayunar, almorzar o cenar hay vendederos de comida increible en cada carretera, solo esperando ser descubierto y devorado. Buen Provecho.