Despite not enjoy many supporters and being launched not had a resounding success, the last time the Chromebook seems to slowly regain ground and above market. We do not know the numbers on the sales in detail, however, the interest that the major manufacturers of PC and Notebook are showing lately towards the device Google tells us that something is moving.
After two years since the launch of the first Samsung and Acer Chromebook, quite coldly received by the public, the presentation of the Chromebook Pixel with Touch display appears to have inverting the route. The only downside to this device is the price too high for this type of laptop, especially compared to the early versions.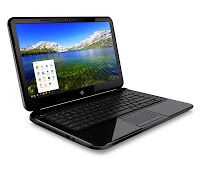 A move definitively the situation has definitely helped with the last update of the Acer Chromebook C720 , now available in version Touchscreen (C720P) at a really great price ($ 299). Acer is marked closely by HP currently offers the Chromebook 14 (display 14 ", Haswell CPU and SSD) again to $ 299, in addition to the excellent Chromebook 11 to $ 279. The latter, introduced last October, proves just as appealing as the HD IPS display, the Haswell CPU, 2GB of RAM and 16GB SSD.
Apparently Acer and HP are not the only "big" to believe in the Chromebook, in fact, according to the latest rumors that Toshiba is ASUS are ready to submit their proposals, which will most likely take place during the CES in Las Vegas in January.
The new generation Chromebook may become much more attractive by using the new Intel-Bay Trail, which, as you well know by now, they offer nothing short of excellent autonomy with a good relationship with the performance. Currently there are no other details, especially with regard to Toshiba, but it seems confirmed that the device will be available in size from 11.6 to 13.3 inches.