With Father's Day just around the corner, we thought it would be a good opportunity to make a list of products your dad might enjoy or which you can simply use as inspiration when you wish to purchase him a gift. Last year, in our "Father's Day Thoughts" editorial we were debating who is a father and why Father's Day should or should not be taken as a big holiday.
When it comes to gifts, there are a few rules you need to make sure you follow, such as transmitting the right message, being appropriate in terms of price or gift size, etc.; but since on this holiday you are probably going to be buying a gift for your father, these rules are more relaxed. You probably know what your father likes and what he doesn't, he knows you well and you probably also know him well. This might make things easier, but it might make them trickier at the same time, as the element of surprise is quite hard to pull off in such a situation.
This is why we selected a series of products we find great because they have a unique design, some of them are hand-made; it is always great to have something made for you, and they are also very practical. It might be good idea too give a practical gift, as it is not only something you store somewhere, but it is also something you can make use of. There are two types of practical gifts: those you use every day and those you use only once in a while. For example, a tablet sleeve is something your dad will use every day, but a pair of special cufflinks is something he will only wear once in a while. There is no special rule regarding which type you should choose: it is up to you!
So, here is part one of our Father's Day Gift Guide:
1. Zipped Portfolio
This zipped portfolio found on the Simon+Simon website is made from buffalo leather and has a great orange lining. The reason we like it is because it really makes a great gift for a guy who works with business cards, anything that needs to be stored right and handy. Since much of the things we need today have become digital, there is not much need for briefcases anymore for a lot of men. However, some things cannot be stored on digital devices or simply need to come in handy should the battery of the owner's tablet run out. This is when this portfolio is useful. It has different compartments, which can be used for business cards, shopping cards, flyers and it can also store other things and bigger pieces of paper.
2. A wallet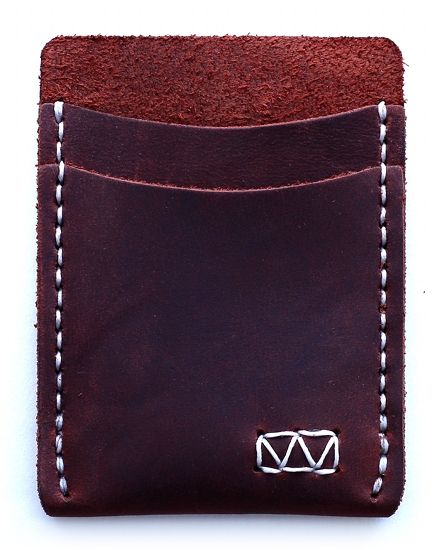 This slim wallet from Waskerd called the Strayer 2-Pocket slim wallet,  is a great gift for a dad who needs little storage space for just a few things. You can put a card, a little money and a few other things in it. There are more reasons why we recommend this piece: it is hand-made from high-quality leather which feels and looks good and you can customize the color of the leather and of the stitching in a lot of ways. You can even add your dad initials on it, which will make it a great, unique piece.
3. Jewelry
This is the Stingray Grey & Vintage Silver bracelet from Nialaya. A great piece from Hollywood, this bracelet is just the perfect gift for a father who doesn't shy away from wearing a piece of jewelry or two. According to their website, silver is "the metal of emotions, the psychic mind, and of loving and healing." You can actually buy any Nialaya bracelet and receive a 20% discount if you use the code "attireclub" when you purchase it.
4. A customized t-shirt
A funny t-shirt is always a great gag gift that really is also useful and comfortable. On sites like Idakoos, you can actually create your own design and pick your own text. If you want to write your dad something, we feel that it would be more appropriate if you wrote something like his initials, not something too explanatory.  Of course, this depends on you and your dad. The custom piece doesn't have to be a t-shirt, it can be anything that is not too serious; for example, you can choose a hoodie or a cap.
5. A phone sleeve
If your dad needs a new sleeve or can use a second one to alternate, a new case for his phone will be a more than welcome gift. Let's be honest, nobody like to go around with a damaged sleeve, it makes your phone look old. This is the Tribal evolution phone sleeve and it would make a great gift for a tech-savvy creative father. The choice of color and mix of texture really make it stand out, if this is what you want.
6. Colorful socks
Generally, socks and other similar clothing items are not appropriate to be offered as gifts. But they are to your father, since you probably know his shoe size, you know what he likes and if he has something to which he can match them. Colorful socks are definitely something that style up any outfit, so if you want to make your father more stylish, this is a good way to go. The reason they are so special is because anyone will be able to tell that the guy who is wearing them has made a deliberate choice when he picked his clothes and didn't simply take the socks that fell in his hand. There are many ways in which you can wear colorful socks. These socks, the Seigaiha can be bought from the Soxfords website, a site specialized in making high-quality socks featuring creative textures and colors.
These are the first products we thought would make great Father's Day gifts. However, don't forget that your actions and words speak louder than any gift!
More from AC:
Fraquoh and Franchomme
P.S. Which of these do you like most? What will you be buying your father? Share your comments below and don't forget to subscribe to our site via e-mail or follow us on our social media to keep in touch and receive part two of the guide soon!
The post Father's Day Gift Guide [Part 1] appeared first on Attire Club by Fraquoh and Franchomme | Men's Style, Fashion And Lifestyle.