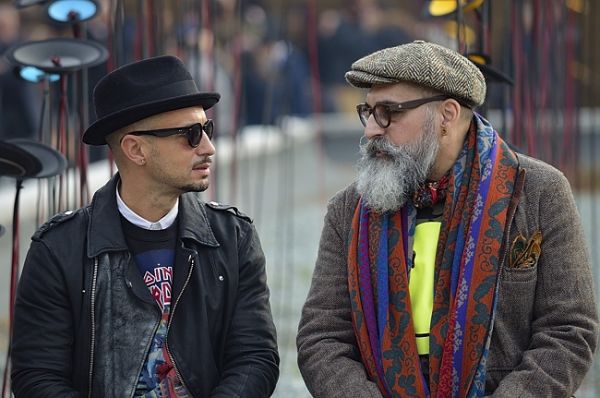 Father's day is a day where you can give a nod to your old man, a pat on the back and a symbol of appreciation. But let's not get too silly, it's just "Father's Day" after all.
Anything at around the £100 mark should do and a bit less if you're planning on spending the day with him. That's right, your time counts for something in our books.
We've picked out a few cool dad-friendly items which might help you think up a good gift. Or you might be the lucky one receiving a gift and all you need to do is drop a few hints.
Penrose Silver Hillman Cufflinks
These unique vintage style silver cufflinks from Moss Bros are £89 and an eagle-eyed bargain hunter will notice Moss Bros currently has a 20% off web exclusive offer available. The cufflinks carry a luxury appeal featuring a textured dumbell design and are presented in neat designer box.
LEGO Skull watch
The gift of nostalgia comes in the form of the new adult watch range by the LEGO Watch System. The new collection is a fun collection of build-able timepieces that allow you to build your own LEGO watch with the unique interchangeable link, strap and bezel system. All watches are between 50-100m water resistant and feature a scratch resistant mineral crystal lens.
Ted Baker ROCKALL headphones
Who wouldn't love the gift of peace and quiet, with no distractions from listen to your favourite band's songs? Move aside Dr Dre and welcome a refined gentleman of the audio wold. The new audio collection by Ted Baker is a real labour of love for the company, one that has been nearly three years in development. The ROCKALL over-ear headphones are available June 10th at John Lewis.
Bexley Flavio shoes
It's highly likely that your old man's shoe game is a bit questionable. He probably wears cheap looking slip-ons or a pair of very pointy squared-toe shoes which were once probably the top stylish shoe choice, but now it's all about the rounded-toe shoe. These Goodyear Welted leather Oxford Italian shoes has a slightly rounded smart toe-cap and is just what he needs to keep his style on track.
Bentley for Men Absolute
Remember when we were in high school and we would say things like "I'm going to be a millionaire by the time I'm 30" or "I'll own a sports car when I'm 25"? Well your dad probably said the same things to his mates when he was a teenager too. For those few of our readers who succeeded in this task, we envy you! For the others, at least we can smell like we own a Bentley with this exquisite spicy oud wood fragrance available at Harrods.
Selfridges Male Grooming Box
For the first time ever, Selfridges has created a limited edition grooming box especially for men. Just in time for Father's Day the limited edition box is available exclusively at selfridges.com from today and is expected to sell out fast. The box contains a selection of 2 exclusive products and 7 well-known brands making it the ultimate kit for dads who love to experiment with up-and-coming brands while still enjoying more established grooming products.