There are over 20 designated hiking trails — not to mention 10+ unofficial ones — on the Azorean island of São Miguel. If you enjoy the outdoors, it's recommended to do at least one, even if you only have a little bit of time. This was the case for me. Plus, I was staying in Ponta Delgada, the capital, where there weren't many trail options — if I went back I'd stay in Furnas near the hot springs and nature — and I only had the morning.
Where the hike begins in Caldeiras
Veering a bit off the main trail
The view and hot springs along the trail.
The local tourism board recommended I opt for Salto do Cabrito, a 3.5-kilometer (2.2-mile) trail that takes about one hour. You begin the hike at the Caldeiras da Ribeira Grande, a small hot springs parish, where orange and red-dashed blazes are near the traditional restaurant. These lead to a dirt road path going toward Lombadas and Monte Escuro, and when you get to a giant water pipe with the trail markets going right, you go left instead.
Once over a small "bridge" in the road, you can hop a small wire string fence on the right and walk down a quiet path lined with ginger lillies, ferns and the water of the Ribeira Grande.
If this doesn't sound idyllic enough, and mix of endemic and migrating birds on their way to Africa sing an uplifting forest song. The small detour ended at the Fajã do Redondo Dam, which you can walk across for great nature and waterfall photos.
Natural beauty on São Miguel Island.
Dam on the Salto do Cabrito trail
Standing on the dam
So much beauty.
From there, you'll head back the way you came from and get back on the correct path, continuing through a forest of towering eucalyptus, acacia and Japanese red cedar that feel as though they're eating you up. At times, the trail is eery, smoke drifting out of the mountain sides.
While you may think you're entering Satan's lair — anyone else read the book Horns? — it's actually caused by the island's volcanic activity underground. This smokey steam is processed on the Geothermic Central of Pico Vermelho power plant.
At this point, I just about thought I was entering Satan's lair. Nope, just naturally occurring geothermal heat.
Smoke and hydroelectricity meet on the hiking trail.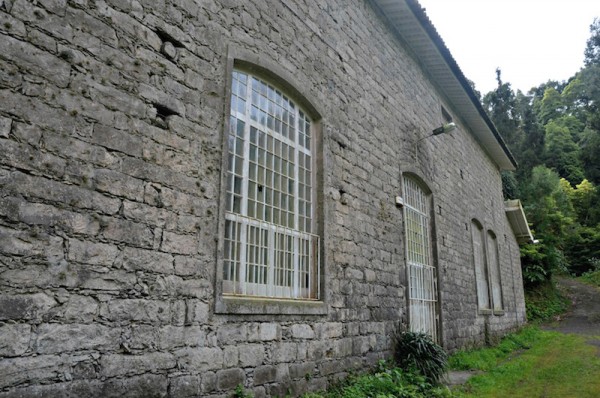 Electricity museum in the forest.
A look at the blaze you'll be following during the trail
Along the way you'll see hydroelectricity pipes on and off, which is why I think it's a good idea to see the dam in the beginning of the hike off the trail. It helps you understand how the pipe diverges on the side from the river.
On the path — right after the pinkish brick Hydroelectric Power Plant of Fajã do Redondo electricity museum — you can make a reservation to visit by contacting Electricity of the Azores at eda@eda.pt — you'll come to a catwalk that takes you above these pipes and a gushing river. If you're afraid of heights you will get a slight butterflies-in-your-stomach feeling, but the precarious sensation is short and definitely manageable for most.
This section of the hike might make your stomach flip a bit.
A unique hiking trail feature.
View from the catwalk. Very pretty!
After a short time back in the forest, the catwalk comes back and takes you beside the long pipe and river, although this time there is also ground directly underneath so it's not as scary. It's interesting to see how hydroelectricity is used in the Azores, as the pipes conduct water from the stream into the Hydroelectric Power Plant of Salto do Cabrito.
Some sections force you to get close to the rocks.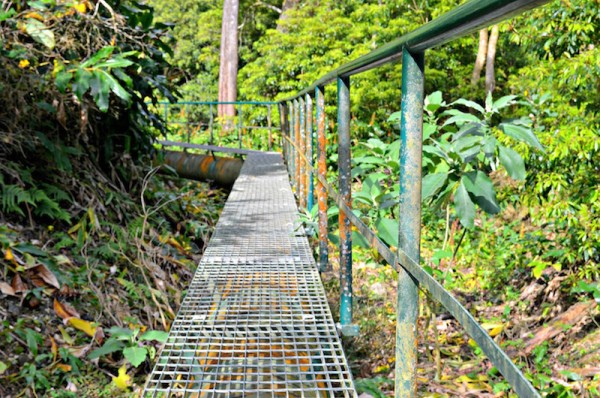 Walking the low catwalk.
Peering at a small waterfall from behind a large pipe on the trail.
The flat hike ends at the Hydroelectric Power Plant of Salto do Cabrito and near a small waterfall which, if you don't mind freezing cold water, you can swim in. I do not partake in freezing my a** off, but instead hop along the river rocks to take photos.
A beautiful ending to my scenic hike.
Overall, the hike isn't particularly challenging, but is great for those wanting to do something scenic in nature along a unique type of trail — essentially hydroelectricity themed. I'd highly recommend this trek for anyone wanting to get active in the outdoors for an hour or so in a beautiful place.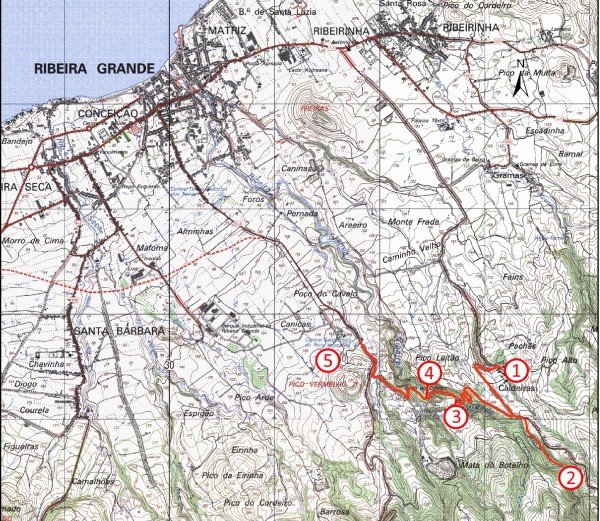 Salto do Cabrito hiking map
For maps and more detailed information about this hike, you can visit the local tourism office (click here for addresses) or email info.turismo@azores.gov.pt. The map they gave me is an older map, and some trail sections have been updated, which they can explain and draw out. They can also make suggestions on more difficult trails and provide maps if this is of interest.
Have you hiked on Sao Miguel or in the Azores? Would love to hear about your experience in the comments below.
*My trip to the Azores was sponsored by the Azores Tourism Board. I was not required to write this post nor was I compensated for it. All opinions are my own, and all stories are based on my unique experiences exploring the destination.
Also Check Out:
Urban Adventures: Summiting Piestewa Peak In Phoenix, Arizona [Photo Essay]
California Adventure: Hiking The Otherworldly Landscapes Of Joshua Tree National Park [Photo Essay]
Hiking & Mule Riding My Way Through Arizona's Grand Canyon [Photo Essay]
The post Exploring Hydroelectricity Through Hiking On São Miguel In The Azores [Photo Essay] appeared first on Jessie on a Journey.