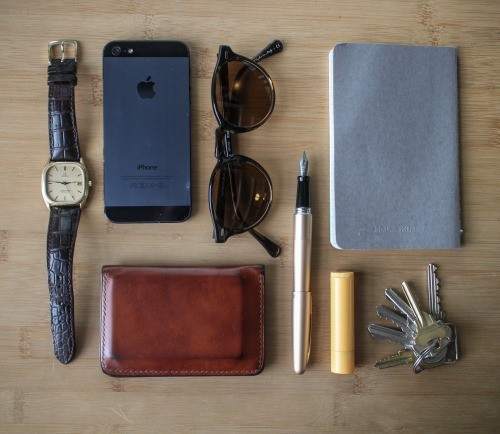 Examining my Everyday Carry
I do my best to keep from overstuffing my pockets with gadgets and tools, but like most people I find myself reaching for the same things every morning. Now that I work at Massdrop I've met a lot of people that are very interested in everyday carry; they inspired me to take a closer look into my own pockets and examine my essentials. Here they are:
1. Vintage 1980 Omega Seamaster Automatic. This belonged to my grandfather before me, and it's my daily reminder of how awesome he was. He was a successful businessman, an avid outdoorsman, a sharp dresser, and a loving grandfather - this watch reminds me to continue working toward becoming all of those things (although that grandfather part will probably take a while). Needless to say, I don't see myself getting a new watch any time soon.
2. iPhone 5. This device allows me to do important things like take photos of cocktails and check my twitter feed in the bathroom.
3. Chester Mox #53 Compact Bifold in Saffron Ilcea Museum Calf. This wallet was generously given to me by Bellanie of Chester Mox, and it is the best I have ever owned (by a wide margin). If this wallet was lost or stolen I would purchase another at full price without hesitation.
4. Oliver Peoples Gregory Peck Sunglasses. I lost my old pair of Warby Parker shades on my trip to Canada, but they were almost three years old (which is like 100 years old in sunglass years). I was able to get these OP frames at the San Francisco Bloomingdales for a great price with some store credit - although I do like the value that Warby Parker provides, these are better in just about every way.
5. Pilot Metropolitan medium nib fountain pen. I'm pretty new to the fountain pen scene, but the writing community at Massdrop has given me the opportunity to try quite a few models. This one just spoke to me - nice weight, brass barrel, simple design, easy to use, and dirt cheap (you can get a 2-pack from Massdrop for $24 shipped right now). A great entry-level fountain pen, in my uninformed opinion.
6. Burt's Bees lip balm. Yeah, I'm one of those chapstick addicts.
7. Keys. Gotta get in and out of the apartment somehow.
8. A notebook. I like writing things down. Perhaps it's my structural engineering background or my struggles to type on phones, but I just feel better with important things recorded on paper.
What are your most essential items?