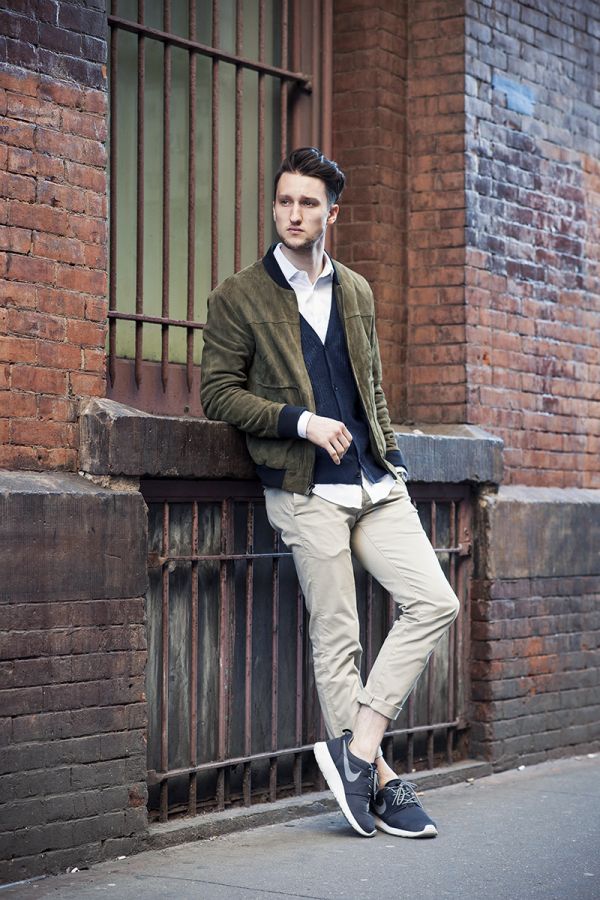 Photography by Lisa Dengler of Just Another Fashion Blog with a Nikon D3x
I'M WEARING: Chinos (Levi's) / Suede Bomber (Marc by Marc Jacobs) / Cardigan (Armani Exchange) / Shirt (Hugo Boss) / Watch (Triwa) / Sneakers (Nike)
#Equipped für einen Tag in Soho, NYC. Keine Angst, ich habe noch einige Looks von Peru für euch die nächsten Tage, aber einen hatte ich noch aus New York ;) Für mich ist das hier das optimale Outfit für einen Frühlingstag in SoHo, mit ein Paar Meetings und jede Menge Lauferei. Die Schuhe sind natürlich optimal zum laufen, aber auch perfekt für den Look ist meine neue Levi's Jeans. Hier die 511, ist in Deutschland glaube ich die 517, bin mir nicht sicher, aber der "Slim-Fit" ist auf jeden Fall ein neuer Klassiker für mich: sitzt top, fühlt sich gut an und so eine Hose wie diese hier ist der optimale Kompromiss zwischen gemütlich/locker und schick für's Geschäft. Professionell sieht es hauptsächlich nur wegen des weissen Hemdes aus, aber selbst der Oberkörper ist ziemlich gechillt, mit einem Sommer-Cardigan und dieser fantastischen Wildlederjacke.
—
#Equipped for a day in SoHo, NYC. Don't worry, there's still a lot more looks to come from Peru, but I still had one saved for you from New York ;) For me this is the perfect look for a spring-y day in SoHo, with a few meetings and a lot of walking. For one, I'm wearing sneakers, which makes the whole walking part fairly comfortable, and secondly, I've got these beautiful new jeans from Levi's. The 511 is a new classic for me – slim fitting, super comfy and this particular style is perfect to walk the line between casual comfort and dapper business attire. The business part of the outfit lies of course with the dress shirt, but even on the upper body I'm going for a more relaxed vibe with a summer cardigan and this fantastic suede bomber jacket.
—
The post #equipped appeared first on .