Islands have become the next eye candy of tinsel town. Everybody has one, we are talking about Nicolas Cage, Leonardo DiCaprio, Tim McGraw, Eddie Murphy, Mel Gibson, Pee Wee Herman… wait, not Pee Wee, last I heard he had a camper trailer out on the studio lot of the television show, Barney the Purple Dinosaur.
It used to be that a hot piece of a** was enough to make the man, but today it would appear that a star hasn't really made it until they have acquired an island they can call their own. Could it be that these fellows are trying to overcompensate for something, that is well… let's just say a whole heck of a lot smaller than an entire island? With that said, I can't think of any more appropriate way to start this island tour off, than with Leonardo DiCaprio.
Leo is the proud owner of a 104 acre island off the coast of the Central American nation known as Belize. Considering his car of choice is a $20,000 Prius, at least we know that not all his money is going to waste. The island cost an estimated $2 million and he plans on spending several million more to turn it into an eco-resort where money, plastic surgery, and glamor can bring about world peace and divine guidance by some obscure miracle. The real question here is how does Leo's island compare to some of the other leading men of Hollywood?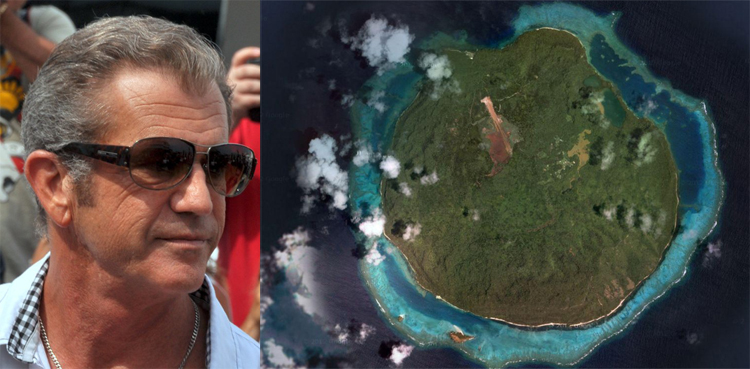 Mel Gibson rolls out his 5,335 acre island across Leo's bump in the water, and it practically resembles a sex scene between a toothpick and Roseanne Barr. Mel yanked his own private piece of heaven out from under 40 coconut farmers in Northern Figi for a cool $15 million. However, the truth is, almost anyone can own their island; you don't have to be a celebrity. But if you want it to be considered a lush tropical escape rather than a weed infested sand bar, then yes, you do have to be somewhat of a cool celebrity. These islands range in cost from $1 million to $50 million and are not always what they were cracked up to be.
And yeah, Johnny Depp has a pricey island all to himself. However, when I inquired about it, he told me to "Fu** Off."
Celebrity Fantasy Islands is a post from: Urbasm