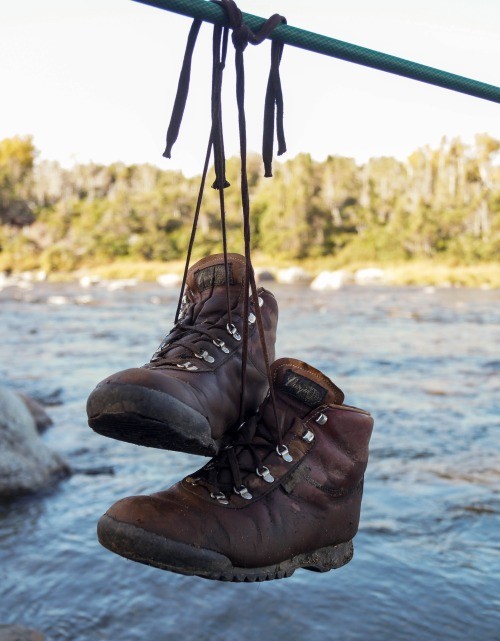 A Good Pair of Boots
Menswear nerds like myself seem to enjoy talking about "essential" items, and footwear in particular - much has been written about the necessity of the black captoe, the brown brogue, the penny loafer, the suede chukka, and so forth. Although items like these are certainly useful, there are also things that are actually essential (not the kind of essential that only exists due to social norms from the mid twentieth century). There are things that we would be wise to have, and then there are things that we really need. A good pair of boots is one of the latter, and the recent soggy weather on the West Coast has reminded me of this.
A good pair of boots is an essential because there will be times when you need to trek through mud, water, and so forth without being concerned about the condition of your feet or footwear. Whether it is hiking, working, or just trying to get to your office during a #hellastorm, there will come a time when regular footwear won't cut it. Some people like to wear heavy boots on regular basis; although that's not really my style, I will admit that my boots probably get worn more often than my black oxfords.
I have two pairs of hearty boots - the first is a pair of steel-toe Chippewas from my days on-site as a structural engineer. The second is the pair shown above, an incredible pair of vintage Vasque boots that I inherited from my grandfather. They have been through mud, snow, rocks, and rivers, and that's only since I've been wearing them. I'm not sure how old they are, but I imagine they've been through a few decades of use. The Vasque brand doesn't seem to make anything close to the quality of these anymore, so don't bother looking.
Fortunately, there are many places to find good boots that will hold up to heavy use. On the lower end of the spectrum (under about $300 at MSRP) you have brands like Chippewa, Danner and Thorogood 1892. Above that you have some familiar names like Red Wing, Oak Street Bootmakers, Wolverine, and Alden. Be warned that most of these brands (with the exception of Oak Street Bootmakers and Alden) have lower-tier lines that carry the same name but aren't as well made. Look for their classic models, "Heritage" lines, and so forth. The differences are usually obvious.
Whatever model you choose, be sure to wear them hard and don't get too concerned over their appearance. Boots like these seem to look their best when they show the signs of heavy use. Each scuff, stain, and speck of mud tells the story of a time when a different pair of essential shoes just wouldn't have cut it.