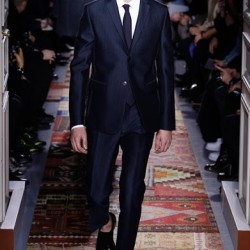 6 Trends For The Fall Season
The Executive Technique
These suites are not your average "run of the mill" attire. They're well designed to fit the man with emphasis on attention-to-detail. From the wall street executive tycoon to the average Joe — anyone call pull off this look with ease & confidence. Just make sure everything is form fitted from top-to-bottom — then expect double takes in the office & when walking the streets of Manhattan. (Valentino)(Ralph L)(Tom Ford)
Scarf Situation
This fall always remember no matter how satisfied you are with your outfit that it can be easily enhanced with a warm or fuzzy scarf. Throwing on this outer layer will easily transform a person from basic to fabulous. The ornate & stripe pattern scarfs are the way to go, the key is to make sure you have a solid tone outfit when canvassing your look for the day.
(J.Crew)(Emporio Armani)(Marc Jacobs)
"Totes" for sure
This autumn you will see plenty of men consuming handbags to boost their style, and perhaps confidence? In recent years men would wear bags to supplement their necessities — today we see allot of men crafting their outfits, to compliment their bourgeoisie taste & ensemble.
(Valentino)(Gucci)(Burberry)(Marc Jacobs)
Pullover "Its Busy"
For the fall season pullovers become essential. With an assortment of multifarious pattern sweaters, easily can make a statement on the streets on Manhattan. And yes do we love this look, the busier the better. That means the more convoluted the pattern the better the overall look.
(J.Crew)(Valentino)(j.crew)(Raf Simons)
Mr. Long fellow
A major component to a gentleman's outfit will be his long coat. We are particularly seeing dynamic trends from retro to military to sports, and ethnic — from the trench to the voluptuous feather filled Parka. Strong autumn colors can make a statement too, lending an air of robust fall colors such as: white, black, grey, vintage yellow, red, oxblood, military, emerald green — and various shades of blue. Also on our radar is the wild animal print, which plays a key trend for the fall season.
(Valentino) (Ralph L) (Tom Ford)(John Varvatos) (Saint Laurent)
All layered up
Layering not only gives warmth but its also very chic — if its done right. Feel conformable and ready to battle the chaotic elements that Mother Nature throws at us during the brisk winter season. Start off with solid pants, adding layers on top. Focus on key trends such as: turtle necks, sweaters, cardigans, vests, & blazers. Accessorize your outfit with subtle jewelry, glasses, totes, hats, etc. The end result is a perfect blend of timeless sophistication.
(J.crew) (Marc Jacobs) (Ralph L)(Custo Barcelona)(Valentino)
By: Lake Louis

The post 6 Fall Trends For The Season appeared first on theREVELERnyc.